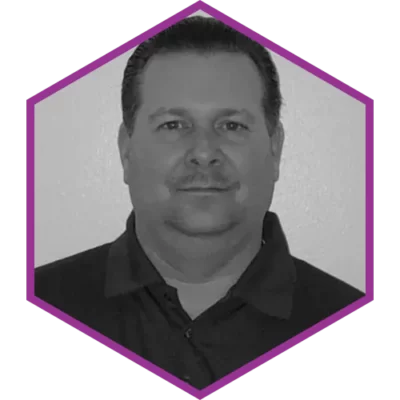 M.H.S., CCC-SLP
Director of Clinical Services & Speech-Language Pathologist
Ed's passion to work with toddlers, infants, and children with special needs and adults started when his son lost his hearing at an early age. His son is now older, has bilateral cochlear implants, and is an outstanding baseball player thriving in every aspect of life. Ed explains that "growing up in the western suburbs of Illinois instilled in me a strong sense of community and values around helping your neighbor because that is what we have always done." Those values are what Therapy Care is all about and helps us continue to support the Batavia, Geneva, St Charles, Aurora and Elgin areas over the last 30 years. "I deeply appreciate the confidence of all of our families and past patients, and we stand ready to help all those who may need our help."
Ed has completed research on traumatic brain injury, pediatric feeding and swallowing (dysphagia), and stuttering. Ed is a published author in the book "Stuttering Meets Stereotype, Stigma, and Discrimination: An Overview of Attitude Research."
Ed has extensive experience in pre-kindergarten, elementary, middle, and high schools (bilingual programs (English-Spanish), life-skills, deaf and hard of hearing), Early Interventions (birth – 3 years old), home health, hospitals, and with private patients. He has worked with pediatric patients with Down syndrome, traumatic brain injury, Deaf and hard of hearing, Autism Spectrum Disorder, and complex neurological disorders. Ed works with adults in the areas of post-stroke, traumatic brain injury, dementia, and trach/vent. Other areas that Ed specializes in include:
Articulation/speech sound disorders
Augmentative and Alternative Communication (AAC)
Developmental delay
Stuttering
Feeding and swallowing
Expressive and receptive language disorders
Aphasia
Apraxia
Social Language
​Ed gradated with a Bachelor of Arts in Sociology from North Central College in Naperville, Illinois and previously worked as a certified alcohol and drug abuse counselor (CADC) for a long-term, inpatient adolescent treatment program. Ed then returned to school to earn his Bachelor of Health Science in Communication Disorders, High Honors, and a Master of Health Science in Communication Disorders from Governors State University.
Ed is married with three children, lives in Geneva and coaches all of his kids baseball, softball, and basketball teams. In his free time, Ed and his family enjoy frequent trips to Puerto Rico where they love spending time in the Old San Juan area.