Kid Confidence Summer Camp
It can be tough to find a summer camp that caters to your child's special needs.   
Most kids enjoy going to summer camp, but for children with speech and language delays it can be a daunting experience. They may feel left out or struggle to communicate with their peers.   
Kid Confidence Summer Camp is the PERFECT SOLUTION!   
Our certified Speech-Language Pathologists, Noelle Van Linden and others, will lead weekly activities designed to help your child socialize and develop their communication skills.  
We know that parents want their children to be happy and confident. That's why we focus on social communication, language development, and literacy skills. These are essential for any child's success.  
Register now for our Kid Confidence Summer Camp!
You won't regret it!  
The Camp Is PERFECT for Children 2-10 years old.  
Presented By Therapy Care 
Click The "Next Camp Registration To Enroll"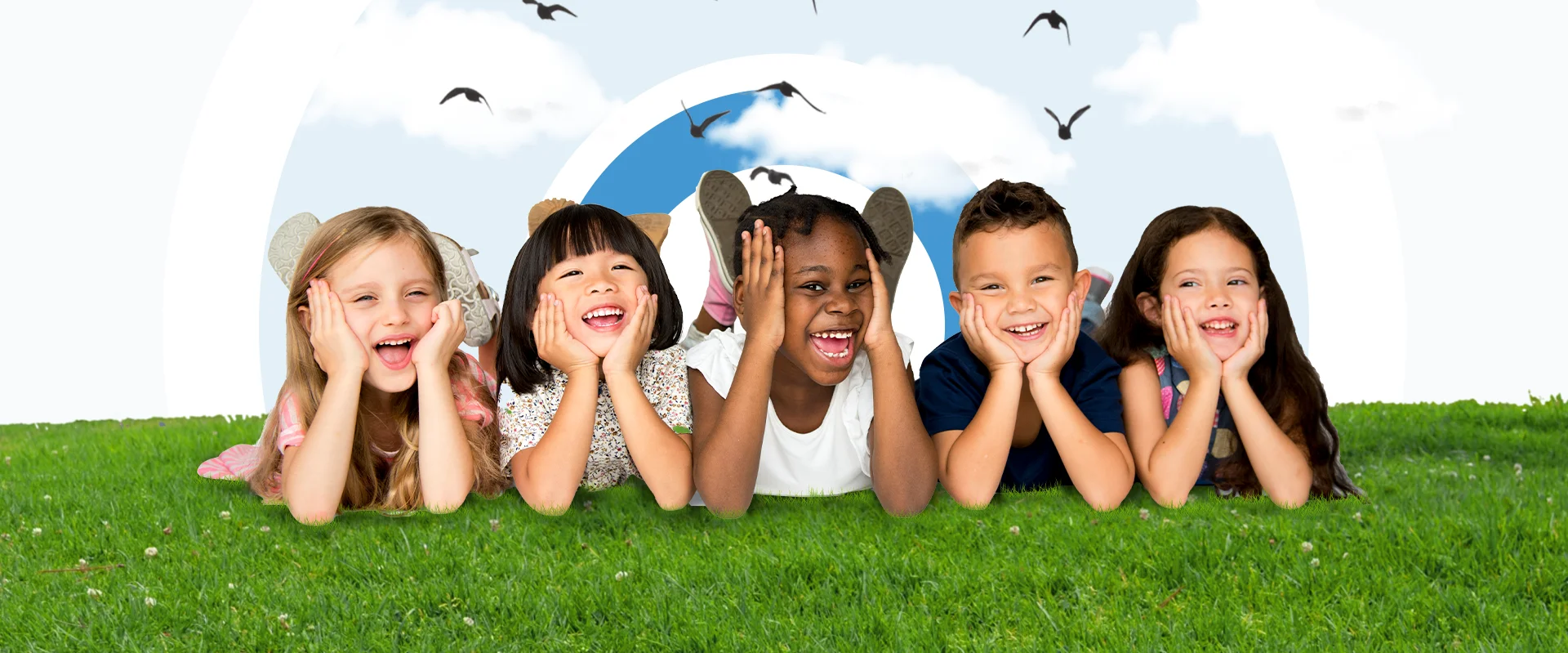 Our Kid Confidence Summer Camp Will Start on Tuesday, July 12th and run until Thursday, August 4th. There will be three groups of children based on their age. Dates will be Tuesday, Wednesday and Thursday of each week, and time will differ depending on the Age Group. 
Register By June 29th, 2022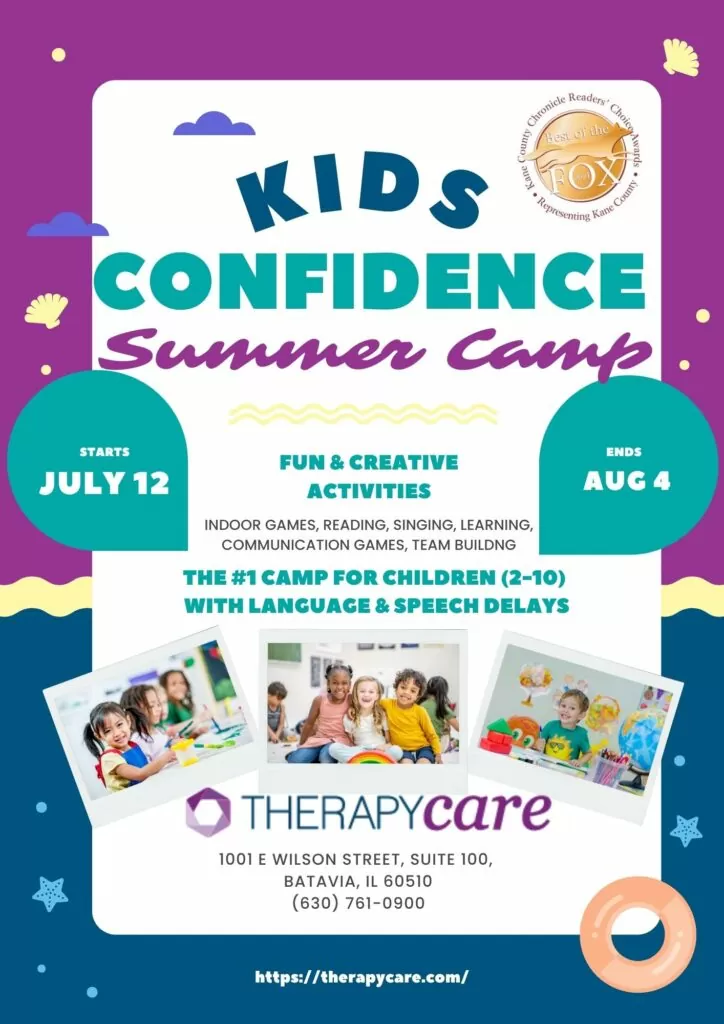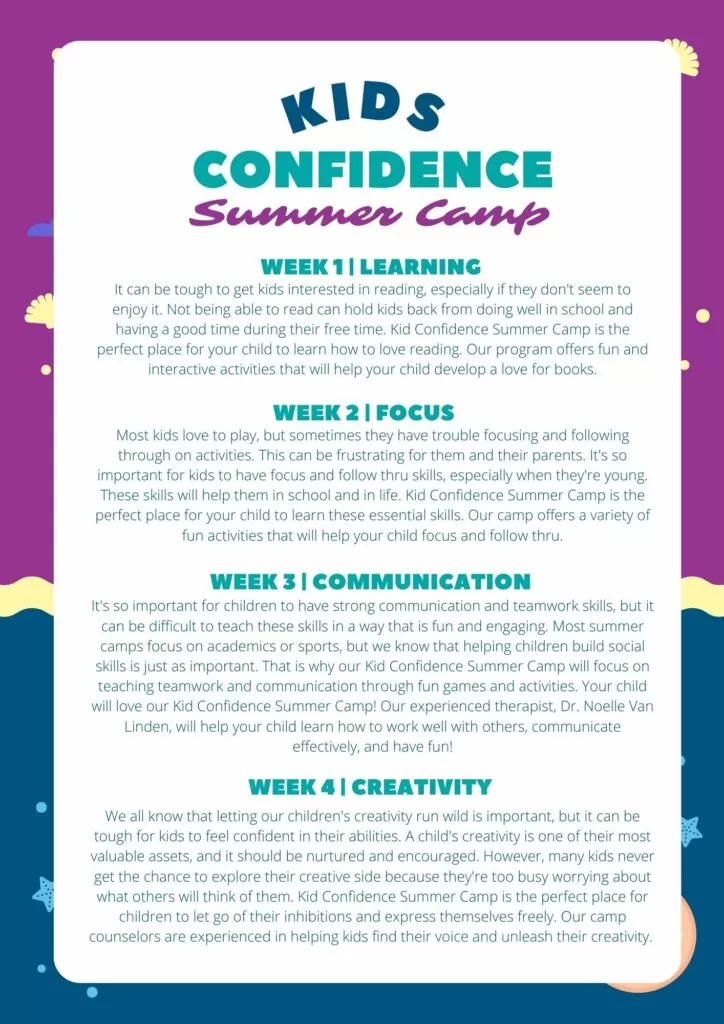 Week 1 | Learning
It can be tough to get kids interested in reading, especially if they don't seem to enjoy it. Not being able to read can hold kids back from doing well in school and having a good time during their free time. Kid Confidence Summer Camp is the perfect place for your child to learn how to love reading. Our program offers fun and interactive activities that will help your child develop a love for books. 
Week 2 | Focus
Most kids love to play, but sometimes they have trouble focusing and following through on activities. This can be frustrating for them and their parents. It's so important for kids to have focus and follow thru skills, especially when they're young. These skills will help them in school and in life. Kid Confidence Summer Camp is the perfect place for your child to learn these essential skills. Our camp offers a variety of fun activities that will help your child focus and follow thru. Register today! 
Week 3 | Communication
It's so important for children to have strong communication and teamwork skills, but it can be difficult to teach these skills in a way that is fun and engaging. Most summer camps focus on academics or sports, but we know that helping children build social skills is just as important. That is why our Kid Confidence Summer Camp will focus on teaching teamwork and communication through fun games and activities. Your child will love our Kid Confidence Summer Camp! Our experienced therapist, Noelle Van Linden,  will help your child learn how to work well with others, communicate effectively, and have fun! 
Week 4 | Creativity
We all know that letting our children's creativity run wild is important, but it can be tough for kids to feel confident in their abilities. A child's creativity is one of their most valuable assets, and it should be nurtured and encouraged. However, many kids never get the chance to explore their creative side because they're too busy worrying about what others will think of them. 
Kid Confidence Summer Camp is the perfect place for children to let go of their inhibitions and express themselves freely. Our camp counselors are experienced in helping kids find their voice and unleash their creativity. Sign Up Today! 
Frequently Asked Questions
Does my child have to attend all four weeks?
– No! We have three different options. You can sign up for the first two weeks, the last two weeks, or both sessions!
Is their a discount if I register more than one child?
– Yes! We have a 10% Sibling Discount
Does my child need to be potty trained?
– Not required, but recommended
Do I need to be present during the camp
– Yes, recommend all of our parents attend the camp. 
Will food be provided?
– No, sessions run two hours in duration. We recommend each family bring a snack for their kiddos, but no food will be provided.